Wild Human comprises a small team of highly respected bushcraft educators and specialist wilderness guides, who are both friendly and professional. They strive to create an environment where you can learn, grow, expand your horizons and get the most from your time with us. Our bushcraft instructors and survival experts are all exceptionally experienced, hand picked and known for their broad skill-base and particular expertise in their chosen subjects.
Ben McNutt and Deborah Nickolls co-own Wild Human. You can read more about Ben, Debs and the team by clicking the links below –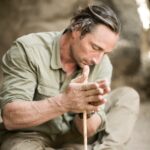 Ben McNutt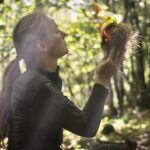 Deborah Nickolls (Fletcher)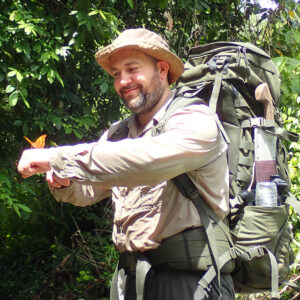 Joe Gilbert
Wild Human also has a team of incredibly talented associate instructors who guest on courses, adding their own unique skill set and magic 🙂
Wild Human has always been totally committed and dedicated to the development, refinement and re-discovery of wilderness skills and knowledge, often pioneering new skill-sets and experiences, to empower others to enjoy nature. It is not our goal to be the busiest or the biggest, but rather to continue to strive to bring genuine, authentic and transformational experiences, expeditions and courses that provide the opportunity for real skill acquisition and personal development.
Wild Human has ensured that it is a carbon neutral company since its creation. We only use renewable electricity and are constantly reassessing other fuel use on courses. Whilst we love and encourage international travel, we are fully aware of its impact on the environment and have offset all company flights at the highest standards. We are very lucky to be able to plant native trees at our own site and ensure they are cared for in order to reach maturity. We strongly recommend that anyone joining us on an expedition mitigate their own flights with their preferred carbon-offset organisation.
Locations
All of courses are run out of three sites in the Lake District with the exception being the Coastal Forager, which is run in Scotland.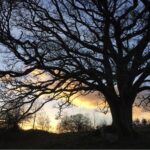 Oak Howe
Oak Howe is 13 acres of private young woodland. Planted with native broadleaf trees from 2011 as a re-wilding/woodland creation project. It is home to some beautiful mature oak trees and a stretch of river that add to an ever-increasing diversity of wildlife. Read more…
Oak Howe is within the Lake District National Park, half-way between Kendal and Windermere.
Claife Heights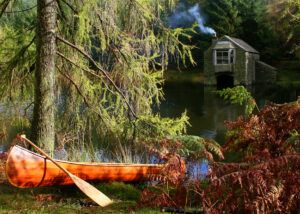 – is a 2000 acre private Estate situated on the Western shores of Windermere. It is comprised of mixed stands of Beech, Noble Fir, Spruce, Rowan, Birch and Oak. And is home to a healthy population of Red and Roe Deer, Foxes, Badgers and a plethora of small mammals and woodland birds. There is a private tarn and Edwardian Boat House for some of our courses and evening swims in the summer are a great way to cool off after a day of learning. This site is surrounded by fields and open fell and gives use a wide range of habitat to explore from a foraging and tracking perspective. Claife Heights has easy access to Windermere train station and the M6.
Witherslack is the largest unbroken tract of Broadleaf woodland in the Lake District and provides us with the perfect location to base our Bushcraft & Craft courses. Oak, Ash, Hazel, Cherry, Yew and Rowan provide dappled shade and the floor of the forest is carpeted with wild flowers.
Witherslack is located in the South Lakes and is a 15 minute drive from Kendal.