What is Environment Specific Training (EST)?
There are many qualifications for leading groups in the high mountains and on (or under) water; but there are no recognised qualifications to prove competence for those wishing to lead expeditions to remote tropical jungles, deep forests, rugged deserts or through frozen wilderness. EST has been created to fill this void; to implement, advance and accelerate the learning of advanced expedition skills, to refine and consolidate, with a view to organising environmentally responsible, ethical, well-planned and safely run wilderness journeys. Providing training and support for leaders, independent travellers or those undertaking a research expedition for fieldwork. By collaborating with a wide range of industry experts, educators and instructors, we have forged a supportive network of advisors and teachers who are passionate about sharing knowledge and have a reputation for excellence, setting exemplary standards within their fields of expertise.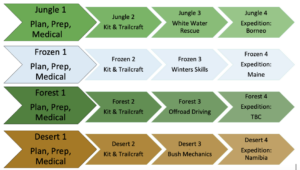 The training pathway for each specific environment is similar as it progresses up a logical teaching ladder, beginning with the first module which covers pre-expedition planning, trip preparation and environment specific medical training. This is followed by the second phase of training which focuses on certain skills and equipment used on expedition in each biome. The training then focuses on a core skill-set for that environment in module three. The fourth and final phase for each environment is the self-lead expedition, which is designed to consolidate and refine all of the theory and practical skills acquired to date.
Module One primarily focuses on expedition planning and logistics, ecologically specific considerations and hazards, accident prevention, risk management and targeted environmental medical training. The medical training elements of this module are of particular importance to that specific environment and delivered by an experienced and  qualified medical doctor with expertise in this specific area. 
Module Two examines the essential equipment used in each biome. The best suppliers, how to prepare, use, store and maintain your kit. This workshop provides a comprehensive hand's on experience, using the kit, similar menus and cooking set ups, survival and emergency skills training and a host of practical skills for both basecamp and on the trail.
Module Three focuses exclusively on a core skill-set for each environment – usually a safety based, travel skill. These workshops are all specialist lifesaving skills, aimed at giving you the confidence to attempt to self-rescue when in a remote wilderness setting. (Frozen is an anomaly, where modules 3 & 4 swap positions due to geographical and seasonal constraints).
Module Four is all about application and consolidation. You will be involved in the planning and delivery of a real commercial expedition, from working with your mentor on the intricacies of managing client expectations and pre-departure medical screening prior to the expedition itself; to travelling out early to the team for the in-country preparations, this is a unique opportunity to 'look under the hood' of a real expedition.
To work professionally as an Expedition Leader, we would also strongly recommend that you gain your Mountain Leader award, hold a solid outdoor first aid certificate like the Wilderness Emergency Medical Technician course and finally by attending the RGS's Off-site safety management course.
Wild Human has worked hard to create the EST system – an inclusive, transparent and structured training program. It is our hope that through integrity and a thoughtful approach, we have created a training system that advocates environmental regeneration, historical conservation and cultural preservation, whilst promoting a responsible travel ethos, and instilling the need to protect and rewild our people, and our planet.
From winter wonderland to blizzard white-out, spending time in the frozen North can be either magical or miserable. It is a beautiful environment can be incredibly comfortable, but has narrow margins for error, where the smallest mistake can be very costly. This suite of courses will take you on a journey where you become extremely competent in the zeros, from snowshoeing and cross-country skiing, to riding snowmobiles and building snow shelters. The aim of this suite of courses is for you to acquire the skills in planning, preparation, traditional skills, snow-craft and knowledge to travel safely in the sub-arctic conditions of the frozen north. Read More…
The jungle is both awe inspiring and daunting in equal measure. This set of four courses are designed to provide a comprehensive mix of practical jungle-craft and theory covering specific topics to anticipate the problems and minimising the hazards of traveling in the Old World tropics of Asia and the Indian sub-continent, the risks associated with the African equatorial belt, and top tips for dealing with the Neo-tropics of the Americas. These junglelore courses are seriously in-depth and will offer very comprehensive training and preparation, as well as those 'gems' of wisdom, to build your confidence and ability; whether you are a seasoned soldier, an expedition medic, a gap-year student or an expedition leader preparing to depart for the tropics, then this is the course for you. Read More...  
Desert travel is good for the soul; the vast windswept landscapes give perspective and time to reflect. Covering one fifth of the earth's surface deserts are places of extremes; with soaring daytime temperatures and freezing nights.  From the empty polar deserts and sun scorched dune systems, to desolate mountains and vibrant oases; these ancient lands move at their own pace and have fragile eco-systems that are easily damaged. From environmental risk assessments and bush mechanics, to snake bite management and vehicle recovery, this set of courses will give you the skills and confidence to safely lead expeditions into the shimmering sands and barren desert valleys. Read More…
Huge swathes of continental North America, Europe and Asia are covered in temperate broadleaf woodland and boreal/taiga forest. These vast, dense forests are home to a myriad of rare wildlife species, from bears and wolves to the elusive lynx and wolverine. There are also thousands of miles of coastline, rivers and lakeshores, each with their own special eco-systems. Scientific fieldwork and environmental conservation projects frequently involve expeditions into remote areas of forest, where off-road driving, precise navigation, good bear protocols and wilderness guiding skills are imperative. In a world dominated by humans, any expedition into wild areas need to be well planned to avoid any potential conflict with wildlife or accidental damage to the landscape. This set of four courses is about learning how to lead an expedition with minimal environmental impact. Read More…